The pyrolysis of plastic to oil is a new green technology to dispose waste plastics. On the basis of this technology, Beston has designed and manufactured the plastic to oil machine which is safe, energy-saving and environment friendly. This machine can effectively convert waste plastic to fuel oil and carbon black.

The following is a brief description of the continuous plastic to oil process:
The pretreated plastic will firstly be conveyed to the moving horizontal pyrolysis reactor through feeder system. Then it starts to pyrolysis and oil gas will be generated when temperature rises up to 100 degrees. Then the oil gas will be cooled down by spray cooling system, it would be liquefied and then go into the oil tank. At the same time, some gas that can not be condensed to oil will come into hot air circulation heating system by secondary fire retardant damper. Then the gas will be recycled for heating reactor as gas material. The exhaust gas goes to the strong spray dedusting system for removing pollution, then the released gas will be environmental and can be discharged to the air. After finishing oil production, the carbon black will be discharged automatically by two sealed discharging systems.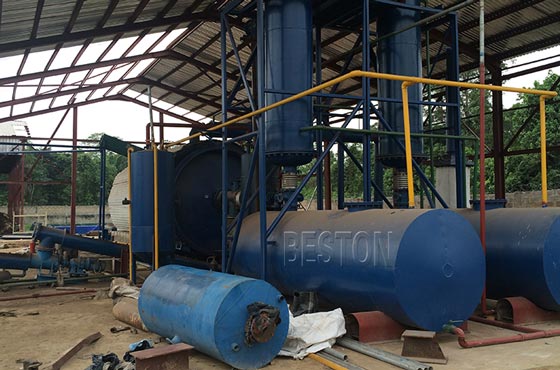 According to the demands of different customers, we also have batch, semi-automatic and fully automatic operating pyrolysis plants for customers to choose. No matter which set of plant you want to buy, we can promise you high-quality products and the first-class service. If you are interested in our machines, please contact us or warmly welcome to visit our factory. We look forward to cooperating with you!
Item
Details
Model
BLJ-6
BLJ-10
BLJ-16
BLL-20
Daily Capacity
6T
8T-10T
15-20T
20-24T
Working Method
Batch
Semi-Continuous
Fully Continuous
Raw Materials
Waste Plastic, Tyre, Rubber, Oil Sludge
Reactor Size
D2.2*L6.0m
D2.6*L6.6m
D2.8*L7.1m
D1.4*L11m
Pattern
Horizontal & Rotary
Heating Materials
Charcoal, Wood, Fuel Oil, Natural Gas, LPG, etc.
Total Power
24kw/h
30kw/h
54kw/h
71.4kw/h
Floor Area (L*W*H)
30*10*8m
30*10*8m
40*10*8m
45*25*10m
Operating Pressure
Normal Pressure
Constant Pressure
Cooling Method
Water Cooling
Life span
5-8 Years